Cooking classes Sardinia, today's recipe
Sardinian carpaccio low temperature cooked with sweet and sour onion, almonds, orange and onion compote, Sardinian pecorino and a mustard mayonnaise
Sardinia has a rich and varied food and wine tradition.
At  Is Cheas restaurant we like to experiment and create new recipes using local raw materials.
Today our chef offers you an ideal recipe for a light and tasty lunch.
For the veal we use the best meat of our territory, the bue rosso (Sardo Modicana cattle) bred in the pastures of the local Montiferru region, which is a slow food presidia.
These slow food projects sustain quality production and protect sustainable farming methods.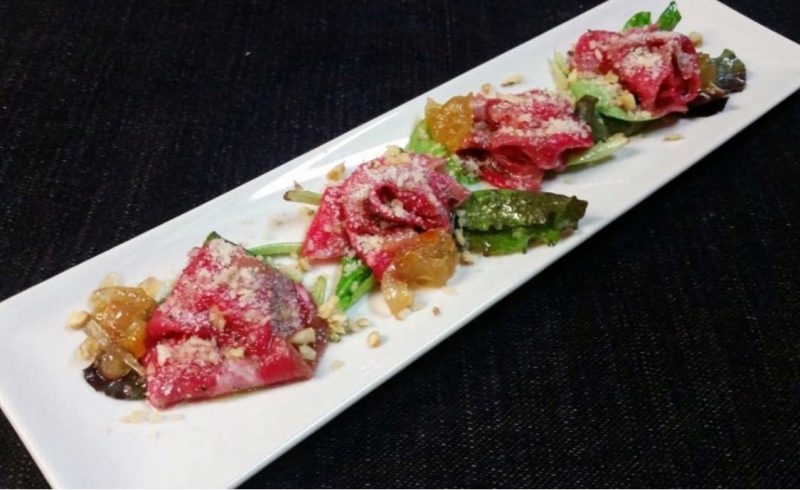 Ingredients for two people
200 gr of veal round
1 fresh spring onion
30g of almonds
40gr of semi-seasoned Sardinian pecorino
50g of orange and onion compote
30 gr of mustard mayonnaise
Garlic, oil, salt, pepper, lemon (q.b.)
For the spring onion:
50 gr of wine vinegar
25 grams of sugar
For the mayonnaise:
1 egg
5 gr of lemon juices
5g of lemon zest
200 gr of sunflower oil
mustard seeds
PREPARATION
STEP 1 Preparation of the veal round
Vacuum cook the veal round (you can use the vacuum cooking bags) with 1 clove of garlic, a drizzle of extra virgin olive oil and fresh herbs (rosemary, laurel) at 54 ° for two hours with the roner
STEP 2 Preparation of the spring onion
Cook the onion in the vacuum cooking bag  with 50g of vinegar, 50g of water, oil, salt and pepper and 25g of sugar for 25 minutes at 61 degrees.
STEP 3 For the mayonnaise uses 1 egg (only the egg white) 5g of lemon juice, 5g of lemon zest, 200g of sunflower oil,mustard, salt and pepper.
STEP 4. Slice the cook veal very finely and serve with the spring onions. Add the almonds, the mustard mayonnaise, the orange and onion compote and the Sardinian pecorino cheese. Add a few lattuce leaves to serve it.
TIPS
We recommend pairing this dish with a glass of red S'ua wine 
This is one of the many recipes you can learn in our  cooking classes during yoir stay at Is Cheas
These cooking techniques will allow you to save time during your working days at home.
---