Holidays to Sardinia with your horse
During a stay at Is Cheas, in one of our suites with private pool and garden, you can bring your own horse and enjoy a unique holiday
Horse lovers know that riding is a daily passion that does not go on vacation.
Our favorite holiday destination is where we can be surrounded by horses and ride each morning before starting a new day. Being able to do it on vacation with your family is an immense joy.

Our hotel is located inside a ten hectare farm, surrounded by mountains, vineyards, horse paddocks and gardens, in a quiet countryside, near some of the most beautiful beaches in the world. We guarantee maximum levels of comfort, privacy and social distancing.
Our stables, built with wooden trusses and surrounded by gardens, are well ventilated and spacious (4×3.50 meters). They are equipped with a drinking trough, a horse feeder and a wood shaving bedding. Next to the stables there is a large shower area.

During the day horses can graze in our green lawn paddocks
They are fenced with wooden and electric wire and equipped with automatic drinking troughs.
Between vegetable and fragrant herb gardens, you can work your horse on a newly built sand roundpen of 14 meters diameter. You can train in our 60 x 40 m arena equipped with show jumping obstacles.
The rest of the day is all for you!
This beautiful area of Sardinia offers amazing and wild beaches. Here you can enjoy family water sports like surf, windsurf, kayak or paddle, snorkel or spend the day on a sailing boat. You can also rent bikes and take beautiful routes or have some shopping in the main cities of Sardinia.
In the evening you can have an aperitif among the rows of our vineyard and dine under the stars
Only four tables in a glass pergola where you can enjoy the dinner in our under the star restaurant.  A five-course tasting menu prepared by our chefs awaits you every evening.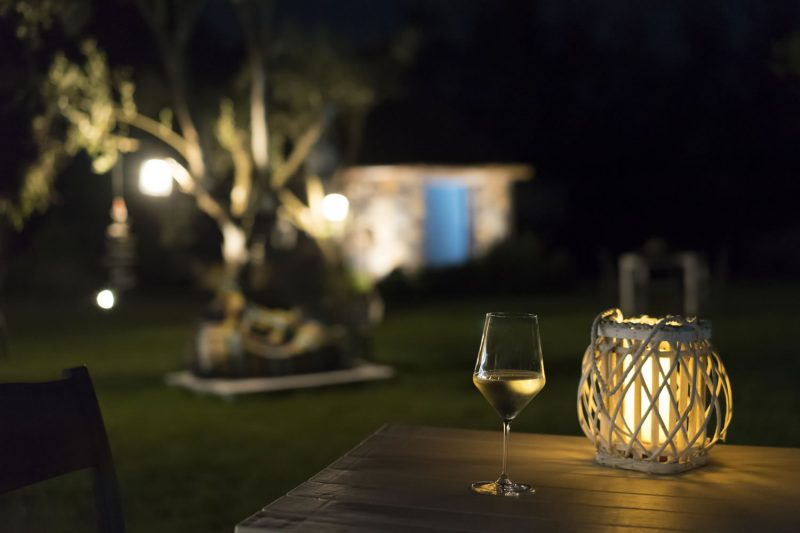 ---